5 Challenges Startups Face While Launching their Online Business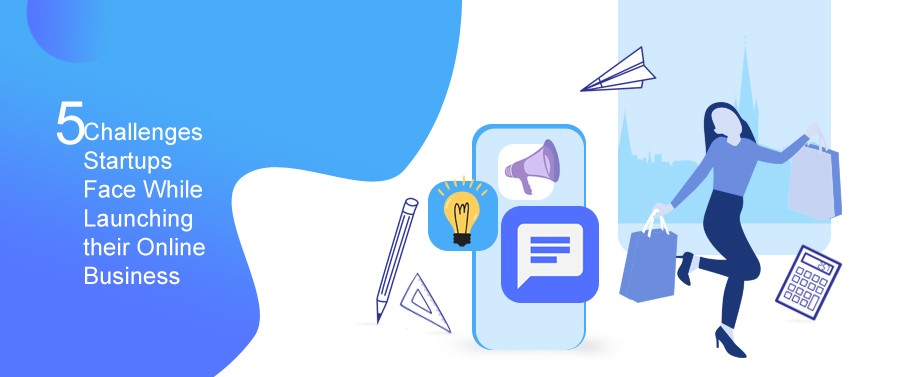 5 Challenges Startups Face While Launching their Online Business
Being an entrepreneur is not an easy job. There are a lot of challenges that one faces while starting a business that further gets intensified when you choose to go online with it. Digital entrepreneurship involves a lot of pressure in the form of establishing an online business platform (website) for consumers to visit and explore your services, attracting traffic towards it and also marketing it.
With more and more users getting inclined towards online medium, it is beneficial for a business to establish itself on web platform. However, your journey towards launching online business would be quite challenging. Lets discuss in detail the challenges startups will face while taking business online.
Launching a Website
The first and the most important step towards establishing your online business is to have a website where consumer will visit and follow your services. Building a website involves a lot of things from choosing the right technology UI/U
X, to the navigation facility and the page load speed etc. All these factors contributes towards having a successful website which is capable of attracting and holding consumers towards your business. If anything goes wrong then the chances are that your business will fail badly.
Just like in a physical environment, its the ambiance that matters for an organization to make the client feel confident about the brand. In the same way, it is the feel and look of website that can help you grab more consumer interest.
The online user reads content will look at the design & interpret everything about your brand through the website. Therefore, it is advised to get your business website designed from a professional web designing agency, especially when you are a startup.
Marketing Your Business
Once the website is prepared and launched, its time to market it. Digital marketing is easy to track in terms of its success and so it is worth every penny considering the startup factor. It helps you create awareness for your brand, make users consider and purchase its services/products and ends up becoming loyal customers for your brand. Digital marketing helps in creating your brand name and will market among users on web. However, targeting the right channel is the major challenge for it should be aligned with the business objective to reap its maximum benefits.
Grabbing More Customers
The amount of customer acquisition depends on your effectiveness with digital marketing efforts. Every online channel has its own market and set of users. Marketing using the right set of keywords over search engines or using the right Hashtags over social media is a challenge that affects the success of your online business. There are different marketing channels for finding B2B and B2C customers. Since every customer is different so are the mediums to target them. For creating awareness you need to market your brand over wide variety of channels.
Customer Service
One of the major challenges for any business would be to satisfy its customers. Businesses with satisfied customers speaks for their great performance. It helps you create goodwill for your brand and customers will find you more reliable. Not just that, giving importance to the customer service or after sales service would further intensify your performance and would spread good word for your brand.
Grow Your Business
Last but not the least in the list of challenges for startups to launch their online business is advancing the business or to grow it. Every business is established with the view to grow its scale with time in near future, however that is not as easy as it sounds. You need to make the special efforts for the same, like sending special messages to your customer through mails or a personalized message when they visit your website. You can also offer loyalty programs to your customer to make them come again. Such efforts would help create a stir among your consumers and they will further market your brand through spreading good words about it among their family and friends. The same will ultimately help you advance your business.
Conclusion
Although taking your business online would offer limitless scalability and opportunities to gather success for your business, the road that leads to it is quite challenging. However, once you tackle these challenges finding success for your online business will be a cake walk.