5 Future Empowering Trends in E commerce Industry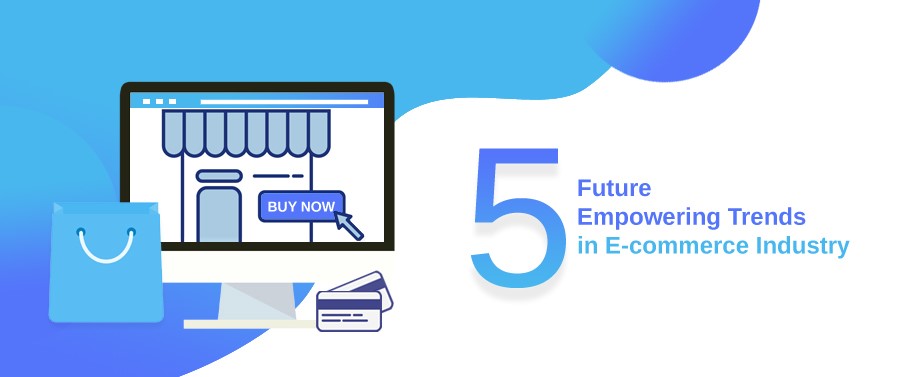 5 Future Empowering Trends in E-commerce Industry
World wide web has revolutionized the way E-commerce businesses operate these days. The traditional process of buying and selling of products and services is now processed through websites. These websites act as online stores that offers a lot of convenience to shop. These can be accessed 24*7 without having to make much effort. Not just that, there are a lot of online shopping trends that are being introduced over the last decade to make the whole E-commerce concept even more effective.
These includes increase in online marketplaces, intervention of mobile phone for online shopping, target consumers via digital marketing, and the use of computing technology to improve consumer shopping experiences. Apart from that, there are a lot more trends that are invented everyday with the view to transform the future of E-commerce industry. Let us explore some of them.
Personalized Approach – Online shopping lacks the personal assistance that we get to experience while shopping from retail centers in terms of making recommendations based on your previous purchases, tastes and preferences. To facilitate the service, online stores utilize customer's search queries, page visits and purchase history to serve best to customers' needs and interests. Studies have shown that consumer would like to visit online shopping site and stay long when able to personalize. Probably, this is the reason why we witness personalized emails from online shopping websites meaning to improve consumers' overall shopping experience.
Chatbots and Artificial Intelligence – Chatbots or AI (Artificial Intelligence) are further some of the great features introduced with the view to improve consumer's experience over online shopping websites. Artificial intelligence helps in handling a lot of tasks including handling inquiries or manging stock. This will save the manual time that can be equipped for some other work. Similarly, chatbots heps in understanding the user behavior, having consumer conversations to evolve and serve better shopping experience.
Expanding B2B E-commerce Avenues – E-commerce is not just limited to making B2C transactions but offers equal seamlessness for B2B transactions. Not just that, about 50 percent of of b2b businesses desire to have personalization to be able to build relationships while searching online suppliers.
Engagement Through Videos – Today, more and more consumers are spending their time online and are also willing to make online purchases, however lack of interaction with product is what stops them to make the purchase. Although there are reviews and the product details mentioned on the website, there still remains doubts that prohibits consumers to make final purchases. This is where Interactive product visualization technology offers great support. The kind of presentation provides real life in-store shopping experience to consumers, thus alleviating all the doubts regarding purchase.
Customized Retail and E-commerce Experience – Even though features like personalization, interaction and chatbots have made consumers turn towards E-commerce websites, there is still nothing like shopping on retail stores. Keeping it in mind, a lot of brands are trying to offer retail experiences to consumers in order to drive further sales. Companies are creating E-commerce experiences within a retail store via digital kiosks. These retail store are small with lesser employees but are conceptualized to provide more personalized and interactive in-store experience.
Concluding Note –
E-commerce industry is clearly on a mission on finding new growth ideas, implementing latest technology features and improving consumer experience with these trends. However, these are just few of them making some impact, the future definitely holds a lot more.