6 Ways to Generate Leads Through Your Website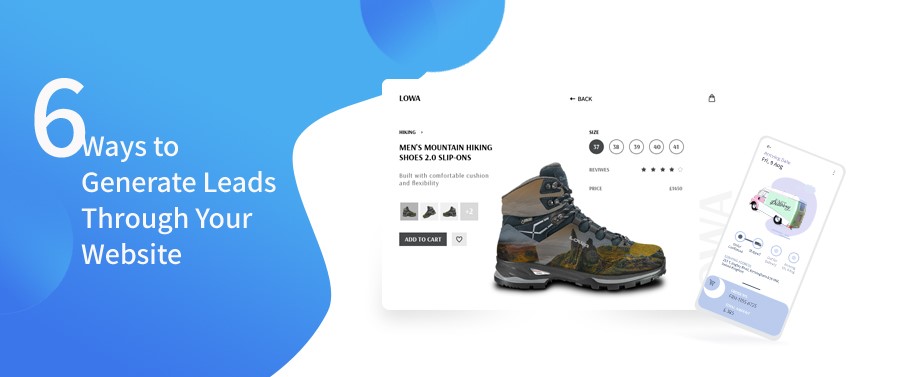 6 Ways to Generate Leads Through Your Website
The soaring competition in the world of websites has increased the importance of promotion and marketing for online businesses in order to achieve the desired success for their brands. However, marketing your business can be a costly affair if your website is not developed effectively. Your website can actually help you in generating leads and driving more traffic rendering the perfect way to promote your brand. This blog is dedicated to the different techniques that can be utilized by a business website with the view to generate leads.
1. Access to Quick Micro Landing Page
Owing to the vast grandeur of internet as the platform, online users has significantly reduced the amount of time they spend on a website. This means you just have few seconds to grab users attention, make them spend some time on your website and probably convert them into your consumer.
Including a micro landing page to your website will be a great idea for the purpose. It is basically a full page pop up that appear in response to some action conducted by the users like an attempt to click of your website or hovering over the text there. Adding the special feature can help you increase the conversion rate by a good margin.
2. Give Your Address And Location Access
For any online business to grab leads it is important that the users find it credible enough to make any further move. According to the google, visitors have a pattern of searching business through their local information which includes the address and the location. A lot of users even make in person visit to the place for the complete assurance of the company that leads in making purchases the same day. Hence, providing address for your business would help you add more credibility to your brand, helps in increasing leads and even drive sales.
3. Provide Your Phone Number
Another major source of adding credibility to your website would be through providing the contact details for your business to let the users reach out in case they want to. Not providing any details regarding your address or a call would make it difficult for the users to trust your website or the brand. Such websites are usually categorized as scam and hence does not involve any user interest.
4. Add Live Chat Option
Live chat boxes tend to serve as the great source of generating lead for any business type. These helps in making direct communication with your consumers with the view solve their doubts or any query they might have related to your website or business. The same will help users develop more trust on your brand which will further boost their confidence to make further purchases.
5. Add Photos and Videos On User Testimonial Pages
Testimonials in any form be it a revie with pictures or videos are the great tool to increase credibility to your online business. Also, statements from happy and satisfied customers will convince your audience on how credible is your brand and that they can also trust you and your services. The same will help you drive more leads and ultimately increases your sales.
6. Make It Mobile Friendly
After the advent of mobile technology, more and more users are switching on to the mobile as their primary source to connect with the world wide web. Also, mobile being the most compatible and remote gadgets can be accessed from anywhere even when on the go offer your audience to visit your website more often. Thus, if you are willing to get more user attention or generate more leads for your website then it would be recommended that you should make your website mobile friendly.
The Conclusion
Every business depends on lead for generating sales in business. If you want to enjoy the same for your business then take advantage of the above mentioned tips and avoid letting visitors slip away unsatisfied from your website.