Adobe XD The Future of Web Designing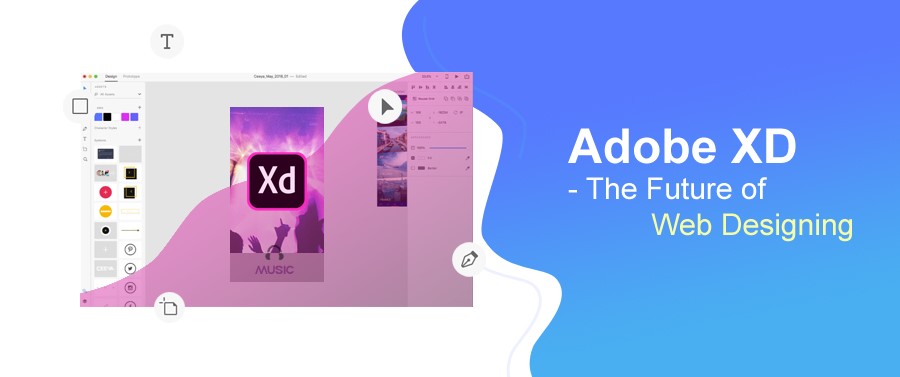 Adobe XD – The Future of Web Designing
The New Age Designing Application
One of the most extensively equipped, high range and a reliable UX design application Adobe XD that can be utilized for building a variety of prototypes. The application comes with an easy and efficient interface, just like its companion applications in the creative cloud package. It provides prototyping tools for different platforms including websites, tablets, mobile phones and many more.
The vector base design app, Adobe XD allows users to design interfaces for mobile and web apps. Earlier illustrator or Photoshop used to be the popular choice for most of the designers for their efficiency and utility. However, the advent of Adobe XD has completely changed the designers current preferences for designing partly because it is easier to use than and also because it is purpose built. The application allows you to combine lightweight layout and drawing tools with easy to use buttons for simple navigation throughout the site or an app. Also, what makes it even more interesting is the fact that the results from the app can be published directly for the final presentation making it quick and reliable for professional environment.
What Makes Adobe XD Exclusive?
Repeat Grid: The feature helps you in creating a set of repeated elements with a simple click and drag and a simple tweaking can help you reflect those changes instantly throughout the rest of the elements. It is one of the most time saving features of Adobe XD.
Prototype and Animation: the app allows you to simply create prototypes submerged with animations. All you need to do is modify object properties including size and position, now apply an Auto-Animate action for required transition between artboards. These kind of prototypes are mostly supported by mobile phones.
Interoperability: What sets apart Adobe XD is its capability to support and edit file from apps like illustrator, Sketch,Photoshop and Aftereffects. Other then adobe's creative cloud, it can also be connected with other tools and services including lack and Microsoft teams to collaborate. Apart from that, adobe XD is also moving from macOS to windows.
Voice design: Adobe XD allows to include voice while designing a program whether it is in for mobile app or whether it is adding speech playback for in car navigation system. Sometimes it is a mix of both like for example the technologies equipped for platform like Amazon Alexa.
Symbols: As per an update in June 2017, users can create and edit Symbols in Adobe XD. The feature allows you to easily edit multiple copies of the same element across your documents and save a huge sum of your time that gets wasted in organizing them to use again.
Responsive resize: One of the most accommodating features of Adobe XD is of responsive resize for group of objects. The app automatically adjusts and sizes pictures and other objects on the artboard that helps when designing a common platform for different screen sizes like PC's and mobile phones.
Plugins: Plugins further improves the functioning power of Adobe XD in case of increased For work flows and integration requirements with other tools, data design and many more. These plugins range from design to functionality, automation to animation.
Why Adobe XD Seems To Be The Future of Web Designing?
With the improvements in technology, it seems like people are getting more concerned about designing arena. And why not, business today would like to invest only if something that foster innovation, is competitive and offer enriching customer experience. In a scenario like this, Adobe XD allows designers to design, prototype and share professional digital experiences that extend beyond the screen. With Adobe XD you don't need different pieces of software to communicate and manage your designs. Adobe XD offer the massive advantage of handing all workflows at one space and without any interruption. This also means that testing and iterating on design is now much more happens easier and faster. Adobe XD makes the entire designing process effortless where interactions and animations are all happening in same context in a disciplined manner. This is very powerful feature as it happens to bring in productive results, saving a lot of time and effort.
Summing Up
While Adobe already enjoys a huge dominance in web designing industry, XD is like an extension to its creative Cloud App assemble. However, earlier, the designer had to use one or more Adobe's application in order to get the desired result for their advantage which is now resolved with the advent of Adobe XD. Also, the designers no longer have to invest their cash to acquire licence for multiple apps. Hence with no barriers to look out for, adobe XD definitely seems to be the future of web designing.