Digital Marketing 2019 A Year Full Of Noticeable Discoveries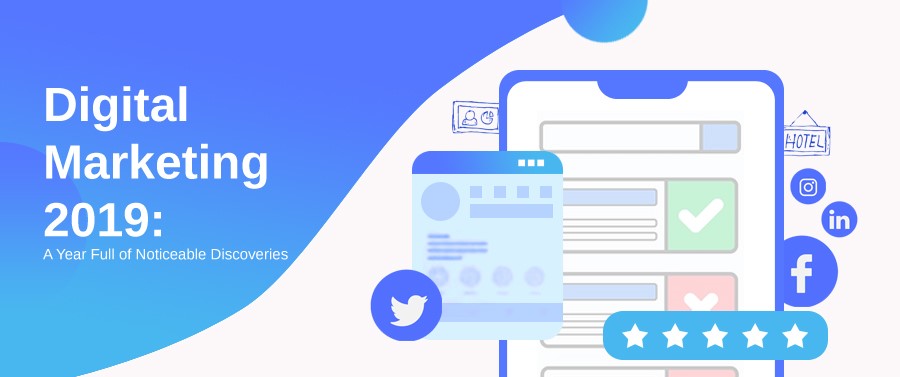 Digital Marketing 2019: A Year Full Of noticeable Discoveries
Digital Marketing is undisputedly the most powerful means of advancing success to any online business. Certainly, its the quality of your products and services which is actually going to speak for your brand, digital marketing lends you the way to initially introduce your brand into consumers life for being able to speak for itself over the time. Besides, with the increasing competition in market, there is even more need to advertise or market in order to grab required attention for the brand.
Seeking the importance of internet marketing for online business, a lot of technological advancement are introduced every year. Last year was full of some of major innovations in digital marketing, 2019 seems to be even more promising. Let us check out some of the major discoveries in the world of internet marketing for the year 2019.
Omni-Channel Marketing – Even though Multi-Channel marketing was doing good, it didn't serve the entire purpose that led to the development of Omni-channel marketing. Omni-channel marketing is more systematic approach with the intent of creating more unified communication system. The form of marketing offers to have consistent communication process to prospects and customers across all channels including social media, through emails, chats, mobile phones or even through the store. The same will helps you keep a track of the prospect's interactions via different channels. The same would make consumers feel that you care for them and eventually it turn them into sales qualified lead.
Machine Learning and Artificial Intelligence – Artificial intelligence is another major initiation making its way in the marketing world working through customer segmentation, retargeting, push notifications, click tracking and through a lot of possible combinations. Using AI and machine learning when personalized and equipped in business can help you achieve your business goals and increase the sales lead.
Chatbots – Interaction with consumers or communicating about the brand in public is a major part of any business.

Going by the famous quote " you are what you share" clearly conveys the importance of communication in business with the view to market your product and services. While social media platforms including Facebook and Instagram are the leading platforms for advertising these days, they alone are not enough. This is what led to the introduction of chatbots on the websites. Chatbots helps in interacting with the website visitors and serve to their queries in the best way possible. Additionally, the introduction of artificial intelligence have further improved these chatbots through adding the advance customer support system representing the business just like a human.

Personalization – Personalized marketing is another essential apart of modern marketing techniques. While consumers are flooded with countless brand messages everyday from companies trying to win over each other, personalization can help you cut through the noise. Personalizing is a process of tailoring your marketing messages to make it more specific for an individual or a group. For example, you can send personalized emails to your target audience in order to grab their interest for your brand.
Video Marketing – The increasing usage of smart phones and the online platforms like Netflix, Amazon Prime, Hotstar, Facebook Live have made videos the leading trend among consumers. Utilizing the trend for advertising your business would help you target your audience in a better way. Live videos are very popular among online users can help you draw maximum attention for your brand. You can make live videos while launching your new product or for any industry related event in order to grab and hold the consumers attention and in the process you can interest them for your brand.
The closure
2019 is definitely the year for the evolution of some major digital marketing trends. All these evolutions are the clear example of the transforming and expanding algorithms in online marketing. Although the above mentioned innovations are the big winners of the changing algorithms in digital marketing, there is definitely more to look forward in this year.