Do You Know about These 9 Important Lead Generation Tips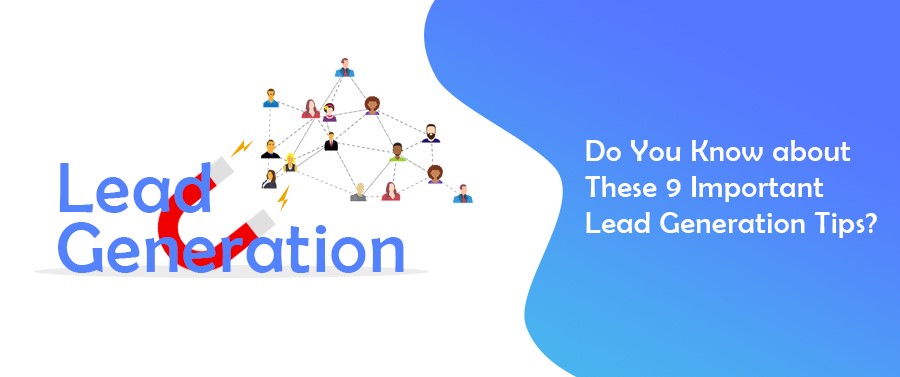 Lead generation is a vital element of a marketing strategy. Examining what works and what doesn't is crucial if you are interested in tasting success and making more money.
Today, you have hundreds–if not thousands–of ground-breaking ways of generating leads, through your lead generation drives, for your online business.
Till the time your firm's reputation and beliefs are intact, you don't have to lose your sleep over 'ethical' and 'unethical' ways of generating leads. Still, you must know that that some specific methods will have far-reaching and longer lasting impacts, vis-à-vis others.
Having said that, now check these 9 tips for a fruitful lead generation approach, and use them for a productive and result-oriented marketing drive online!
Lead Generation: 9 Most Important Tips
Utilize the Right Statistics
This is incredibly important that you value your customers and have their correct information, because if you know them inside out, you can personalize your plan to suit your target groups.
It's also crucial that you know the right way to speak to your clients and prospects, in the correct tone, so that they don't ignore your brand, and the products/services you provide.
Optimize Your Home Page
Your home page is the soul & heart of your website. In fact, it's the engine that powers your website. So, it's hardly a matter of surprise that it's visited the most even as it occupies an exceptionally important place in your website.
To leave a great first impression, optimize it. You won't be able do a decent business and make good profits, if you fail to organize, clean the mess, and place vital essentials on the top.
Focus on these stuffs to optimize your home page in the best possible manner:
Navigation: Ensure that it's customer-centric even as your visitors don't come across any problems locating what they want on your website.
Content: Explain–in simple, understandable language–where your guests can find tutorials & how-to guides, and figure-out more about what's on offer.
Calls-to-Action: Have strategically placed Calls-to-Action buttons on your site, on the relevant pages, to motivate visitors to take the required action. Inspire them to get in touch with you, subscribe to your e-mailers, download a lead magnet, and/or make a purchase.
Signup forms: Come-up with striking opportunities for your guests so that they sign up for your e-mail newsletters.
Products: Put your products in order. Make them scannable. Also, optimize your checkout procedure, as your cart-desertion rate will jump in case you fail to make the entire buying process simple.
Follow Leads
For a successful lead generation plan, figure-out how to follow leads. You can employ different methods to do this. For instance, you can use social media, e-mail, or your website.
You can use Google Analytics to learn which pages of your website are attracting visitors the most and drawing high traffic. You may also make use of Customer Relationship Management (CRM) software, to examine the connections that you are developing with your clients and prospects.
Focus on Quality
Not many marketers really give much importance to their strategies' overall quality. This is wrong. Perform comprehensive research so that you may focus on those customers whose chances of using your services and products are higher.
Make the Best Use of Word-of-mouth Publicity
No type of marketing can beat the decisive effects of Word-of-mouth marketing. When some clients refer your business/services to others, word starts to fly that you provide a wonderful product and/or experience.
You can do certain basic things to create a great customer experience. For example, you can deliver products speedily; send clients praising e-mails, post purchases; and follow-up with them, via phone and e-mails to verify delivery, etc.
However, nowadays, consumers usually take such services for granted. To really exploit the amazing powers of word-of-mouth, go the extra mile and do something extra.
For instance, provide attractive discounts to those who refer friends/colleagues/family members to your website. Encouraging referral is an exciting manner to multiply the word about your products/services.
Study How Your Rivals/Competitors are Running their Marketing Drives
To ensure that your lead generation approach proves to be a roaring success, don't forget to examine your competitors' sites. You will get helpful information about their services/products, and also the type of content they publish.
This will help you to decide your next course of action, to stay on top of the game. Use the data you gather intelligently, and make sure that your plan is both exclusive and attention-grabbing.
Make Use of E-mail Marketing
E-mail Marketing is a powerful tool for Digital Marketing. So, build your e-mail list of your prospects and clients. Try out more vigorous methods, such as pop-ups, to collect e-mails.
If you use E-mail Marketing in the right way, it will be an incredible and money-spinning method for you to reach and influence your target groups, and harvest new leads for your business.
However, don't make some common mistakes–like many people–while trying to exploit the e-mail marketing powers.
For example, never ever bombard your prospects and clients with loads of unwanted mails. You will irritate them. Respect their time and privacy. Give them the choice to unsubscribe if they don't want your business mails, and aren't interested in what you could be trying to sell them.
For this, use an opt-in approach that gives your subscribers the power to decide if they want to be on your mailing list and get your e-mails. Insert an unsubscribe link for the purpose.
Make Best Use of Results with Pay-per-Click Advertising, Social Media
In the cutthroat world of Search Engine Optimization (SEO), getting a high rank for keywords is a long-term plan. PPC ads enable you to appear higher in the Search Engine Result Page (SERP) rankings, without having to push your website up to the top. It's indeed an incredibly effective method of creating traffic to a landing page. Of course, you have to pay for this.
Social media ads also provide you with the chance to increase posts, and help promotions get exposure. With the PPC ads, you can easily focus your attention on the right audience even as with sufficient statistics, you can even come up with mirror image viewers, to draw your target consumers.
Social Media itself is also a helpful channel for creating leads, with Instagram, Facebook, and Twitter showing the way. Social Media isn't just a wonderful platform to talk about attractive money-offs and promotions; it's also an amazing place for the sharing and syndication of your content.
Your Content Marketing will have more petrol in its tank if it's linked to a vigorous and well-planned social marketing drive.
Solicit Help from the Professionals
Several companies have their in-house team of marketing professionals, working round-the-clock, to chase leads. Still, it will be a lot better if you seek expert help from certain experienced lead generation firms–such as InfoSpry–for instance.
You will get stunning results, new leads, and opportunities–and of course–profits swiftly. You may have to spend some additional money though for the purpose.
Now since you know about these 9 important lead generation tips, what are you really waiting for? Start generating leads without any further delays for your business.
Here's wishing you good luck and unlimited success in your endeavors!