Don't Just Market Be An Influencer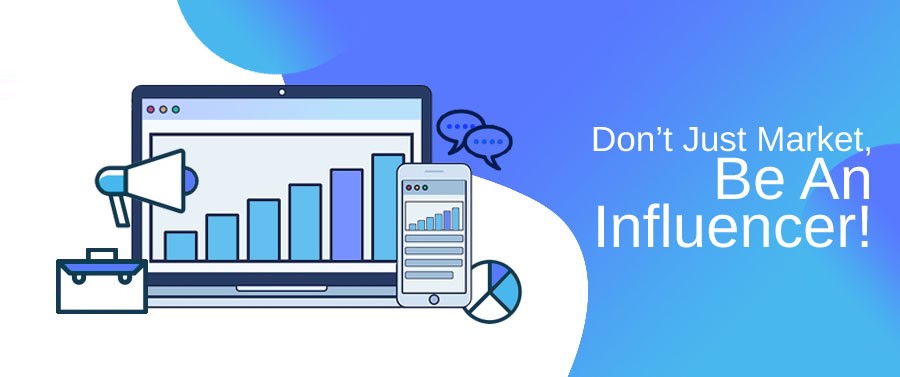 Don't Just Market, Be An Influencer!
Modern consumers are apprehensive and skeptical when it comes to relying on a brand and making purchases. And why not, there are hundreds of brands currently available in the market trying to built their consumership based on their USP's(unique selling points). These brands market their products creating content including ads etc with the view to persuade consumers, however when it comes to the users it takes a lot to win there trust. This is when influencer marketing can turn out to be your ultimate rescue.
Today, around 63% of brand marketing is executed through influencer marketing. This is because influencers can help you connect with your audience with a lot of trust and their opinion, knowledge and authenticity can help you persuade audience to try your brand.
Who are these influencers?
Today, there are a lot of people on web who are creating engaging digital content, have already established their niche among web users. These are basically socially savvy individuals, having a lot of followers, being listening and searched for what they do and thus seems a great option for choose for marketing. The influencers come with built in audience who trust them and will be more than happy to buy things that they would recommend.
How to find right influencer for your brand?
Know Your Audience
One of the major aspect in deciding who your influencer would be knowing your audience. To reap desired benefits from your marketing efforts it is very important that your audiences are same as to that of your influencer's. Finding the right influencer ensures that your products are been promoted to the relevant audience who can actually be interested in buying your products.
Know Your Influencer
If you have decided to go for influencer marketing then it is important that you know the influencer you are selecting to market your brand with. You can choose your influencer on the basis of following given points.
Exposure is one of the major concerns for any business to reach out to these influencers to market their product. "The more followers of an influencer, the more exposure the business will get"! Therefore, make sure you choose an influencer who has decent number of followers on social media.
What is even more important is to know how influential is the influencer you are choosing to help you promote your brand. It is important because this will let you know that how many people are really interested in their content, trusts and follow them. This will get you the idea of how much the influencer will be able to influence their purchases.
Look for the influencers whose personality and style aligns with your brand value and the message it conveys. This will help audience connect with your brand and will find it even more appealing.
Find influencer of the same niche as that of your product and industry. Like if you deal in technical gadgets, look for an influencer with tech niche.
Conclusion
Lastly, Influencer marketing is the most personalized way of connecting with the audiences and to make them buy your products. Therefore, it is advised to combine it with the rest of your marketing strategies, providing content consistently from the influencer persuading audiences for an elevated ROI.