E mail Marketing May be the Game Changer Top 5 Tips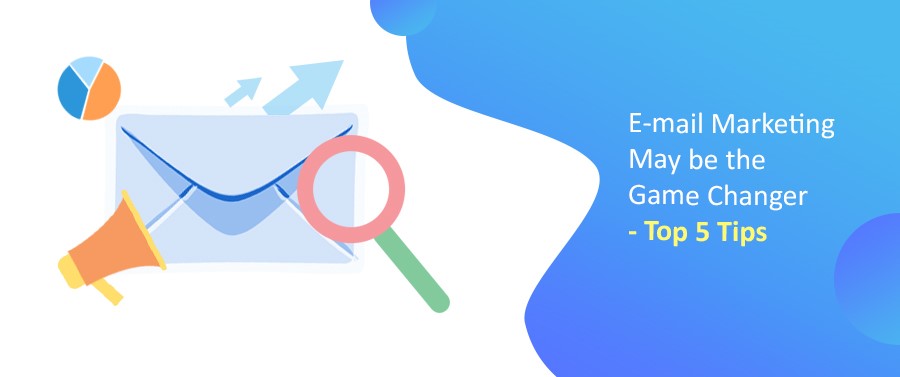 Do you know that–contrary to the popular belief–E-mail Marketing can be the Game Changer for Your Business, in 2020 and beyond?
Yes, it's true!
Social Media has always done the trick, if we talk about giving your business more exposure and visibility in the market, and engaging your customers through online, digital methods.
But the importance of digital marketing tools–such as e-mail marketing–can't be ignored.
In fact, actual conversions, real, concrete returns on your investment, are mostly made, using engaging and well-planned e-mail marketing drives.
This tool is more than just a targeted approach to reach your customers.
With e-mail marketing, you can even track and record the exact returns of investment.
But what exactly e-mail marketing is?
Any kind of marketing that employs electronic ways to promote, market, or talk about money-making opportunities to your soon-to-be customers is e-mail marketing. This kind of marketing offers you with a chance to boost your association with your customers.
Discount codes, upcoming promotions, product updates…these are just three tricks that you must include in your e-mail marketing drives to attract your prospects and customers.
Now the million dollar questions: how to make your e-mail marketing drive a successful one? How to cut down bounce rates and improve the open and click rates?
It's a fact that in the absence of proper planning, and the right template, such exercises often fail to bring the desired results.
Actually, most mails don't even get opened, or the offered grabbed, by the recipients.
Why it happens so?
Perhaps, you could be too crude in your approach. Possibly, your copy is poorly structured and not specific. Perhaps, you e-mail list, with the mailing addresses of your clients and prospects, is an old one, and many of them may not be using their previous addresses anymore. Delete all such addresses and refresh your mailing list.
What's your goal should be?
Your goal should be to sell your services and products, but you mustn't do it in a loud way. Your goal should be to engage your recipients, through witty and interesting content and illustrations/pictures. Your goal should be to engage them first and raise an interest in them for your brand. Your aim should be to connect with them on an emotional level.
How to do that?
Try to know your audiences, to make your e-mail marketing drives successful. Besides, deliver on your promises. Have a crystal-clear purpose, be specific and concise. If you—yourself–don't know what your target is, how would you achieve them in the first place?
In addition, don't beat around the bush and come to the point straightway; of course, through refined and engaging ways.
Also ensure that you have a consistent template. The purpose of your business e-mails should be to help your customers associate you with a reason, idea, or narration they personally support.
Now the e-mail marketing tips, in detail!
Top 5 E-mail Marketing Tips
Follow these 5 important tips for a fruitful e-mail marketing exercise in 2020 and beyond:
1. Be More Thoughtful
The world has changed a lot now, especially in the backdrop of the rampaging Covide-19.
If you are running any kind of business, you must factor in this.
Now most people are living in a state of fear and want security and emotional support to pull through.
Now the days of fancy and glitzy show are almost over. You must be able to emotionally connect with your targeted groups and customers, to establish a bond and improve your sales and profits.
Now the way people shop online; act in response to different messaging, as well as their overall emotions have changed a lot.
The good news: now more e-mails are being opened, even as e-mail skimming has hit roof.
The deadly disease may vanish in some months; its aftereffects though would continue till the close of 2020 or even further than that.
So, if you haven't been mailing mails that appear like they're from an actual human, this is the right time to begin doing so.
What your customers want at present is not a brand, suggesting a buy to boost sales, but an individual–made with flesh & blood–advising a way to positively address a problem they could be battling against.
2. Have More User-Generated Content in Your Email to Boost Engagement
Most of us love getting acknowledged and gaining exposure for something good. Create e-mails that exhibit gratitude to your subscribers, to improve user engagement. It will also let you know the kind of content that inspires them the most.
3. Seek Feedback, Occasionally
Although e-mail metrics help you know the performance of an e-mail drive, you won't get the complete picture of a marketing effort if you depend on just the metrics. To decode customers' viewpoints, request for their feedback.
4. Insert a Face & Personality into Your Marketing E-mails
As discussed earlier, now most people have become immune against gaudy ads and e-mail drives. They're keen to relate to brands run by 'real' individuals.
Hence, incorporate a personality to your e-mails, to make them look comparatively less programmed. Also, associate a face to your e-mails, to give your brand an identity that produces an emotional bond with those on your mailing list, make your brand more humane, and develop brand authenticity.
Nowadays, more businesses are sending e-mails, employing an individual e-mail address, like kavita@kidsstore.com, in place of info@ kidsstore.com. Significantly, if you give your e-mails a personal identity, it will be a lot easier for you to employ storytelling in your e-mails.
5. Make the Most of Analytic Tools
Use analytic tools to figure-out the efficiency of your e-mail marketing drives. Use the data collected to shape your new course of action, for improved results.
Follow these tips to make the most of the powerful digital marketing tool called e-mail marketing!
Steal a march over your competition, and improve your business fortunes!
Get in touch with the professionals, if you don't have the time, or can't do it on your own. Some well-known and experienced Digital Marketing and Website Development & Designing firms–like InfoSpry—can help you gallop ahead.
They have a team of highly skilled copywriting and graphic designing & development professionals. They can help you engage your customers and prospects, in the most fruitful way, through their innovative & result-oriented e-mail marketing drives.