Essential Components for an E Commerce Website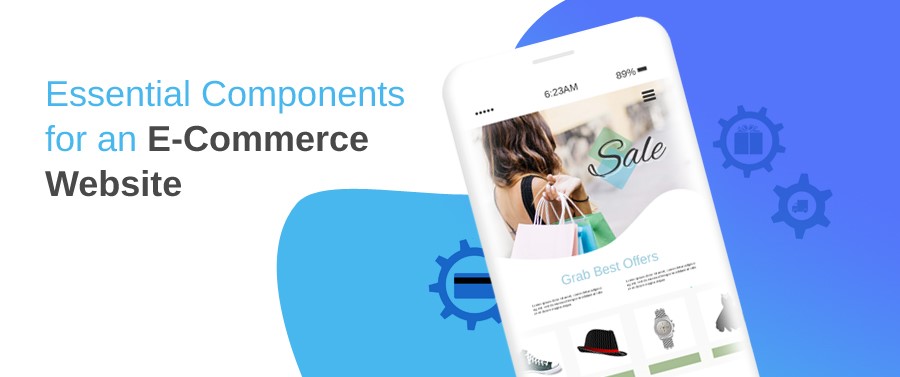 Essential Components for an E-Commerce Website
E-commerce websites or the online shopping platforms facilitating consumers in-home shopping experience are getting more popular day by day! So much so that now these have started to become obsessions for many. People are getting dependent on these sites for their daily needs of food and clothes. There are tremendous benefits of e-commerce websites, like for starters you do not have to move out of the house, that eases the whole lot of pressure. Along with that, you can compare quality and prices of the products with multiple stores, don't have to worry about visiting stores in bad weather or shop being open/closed, is it the right time to visit the store or not ? etc etc. Also, these websites provide free deliveries and easy returns on their products, thus making it highly engaging for consumers.
However, the increasing number of e-commerce platforms is what creating the hitch in success for many! The competition seems to be roaring and the same is affecting online businesses. However, do you know the reason why some e-commerce websites are not as successful as others? Or that why some e-commerce/shopping websites fail to grab required public attention?
Lets discover the answer to the big question –
An online shop is more than just a shopping junction. Its not just about the variety of products it has to offer but the experience it provides to the visitors. It is a consumer space that require some essential components to be a success. These components include –
Clear and Appealing Product Pictures – It goes without saying but to sell product you need to present the product in clear pictures so that the users would get to know what it actually looks like. Therefore, make sure that the product images you provide on your website should be clear and captured in good lighting to be able to understood and comprehend properly by the visitors.
Simple Design and Smooth Navigation – Be clear on how you want your online shop to be structured or the categories you want to have on your website. Discuss with the designer on how to make it more accessible with the design type. The purpose is to offer the ease of navigation to the visitors and provide an experience impressive enough to persuade them to visit again and again.
Offer Product Description – For an E-commerce website it is important that it does provides the information of the products it is selling. Making the website more descriptive would add more ease for consumers while making purchases. This will enable them to make purchases more confidently and would ascend more credibility to the website
Shipping Information – Most of the time it is advised that you clearly state all the shipping details on the top the website so that the users stay informed with the shipping policy beforehand. Provide full information on the different shipping costs depending on factors like geological locations etc.
Simple Returns – Just like shipping polic
y, there is return policy which is definitely a must to state for an E-commerce website. A customer might want to return product in case of some defect or due to dissatisfaction with the product received. In such a scenario it will be great if you have already have a return policy before hand. Make sure to provide all the details on the returns with your policy in order to avoid any confusion later on.
Contact Information – For an E-commerce website it comes in a best practice to provide one's contact details on the website. Consumers would trust the platform more knowing that they have an option to reach out if they want. Such practices help you sustain longer relationship with consumers on your website and even gain more business.