How is Machine Learning and IOT Transforming Digital Platform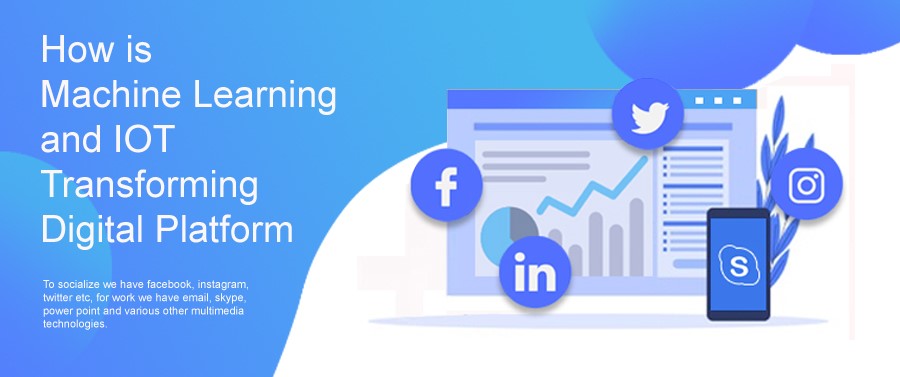 How is Machine Learning and IOT Transforming Digital Platform
We all live in a digital world. We have internet that simplifies almost every aspect of our life. To socialize we have facebook, instagram, twitter etc, for work we have email, skype, power point and various other multimedia technologies. However, Internet today is no longer limited to the information exchange game. IoT (Internet of things) has stepped in to transform the existing digital scenario. The potential of IoT and the technologies associated with it have made and is still making major change, not just in terms of businesses and the entrepreneur models but within the society driving it into more networked era. The concept of IoT is positively shaping human life into more automated world, proposing the interconnection of devices to simplify many daily chores. Infact, the innovation offers wider scope to enhance the quality of life in all major prospects.
Internet of Things – Lets Explore
What if you have a way to convey your coffee maker to keep your coffee prepared before you reach home after a long tiring day at work? Well, yes it is possible with the fast pace transformations taking place on the digital platform! Machine learning or IoT have wrought major change in the way we operate today. The trend has started to seep in almost every domain of the digital world. It is the process with greater connectivity and impressive functionality that help add more ease to human life. In simple words, IOT have made everything more smart be it traffic lights or refrigerators at your home. It has interconnected the devices and people through embedded sensors and collected data so you can automate the mundane jobs of your life and focus on more productive things.
Benefits of IoT and Machine Learning
IoT has proposed an effective communication system between devices like connecting your air conditioner with your mobile phone that enables you to operate your AC at home from wherever you are. The same has improved the living conditions and boost efficiency.
The automated communication between machines enables you to perform faster and save time.
With the transforming digital platform you will now have more control on the things around you like you can switch off the coffee maker from your car if you have forgotten to do that at home.
Another major advantage of IoT is that you can monitor things in a better way. Lets say if you are running low on kitchen supplies, knowing it before hand would save you another trip to mart.
Allowing the appliances to communicate with each other, IoT makes it even more advantageous through conserving energy and saving cost.
Connecting all the devices, the digital innovation offers more convenience, control and management, thus improving the overall quality of life.
Future Prospectus
The advent of IoT has not just revolutionized the digital scenario but has turned it upside down. Internet made it easier to communicate with our loved ones, however IoT made it possible to connect with our devices at home and even control them. Not just that, one can even conduct health checkups via remote monitoring of patients and production of goods, manufacturing facilities etc using the latest machine learning processes. Therefore, IoT proves to have immense potential benefiting the human society. The technology renders great possibilities for today and even for future. Bringing in major technological transformation, it would be even more exciting to see what the current technological upgradations or the IoT holds for us
in Future.