How Digital Marketing Can Help You Grow Business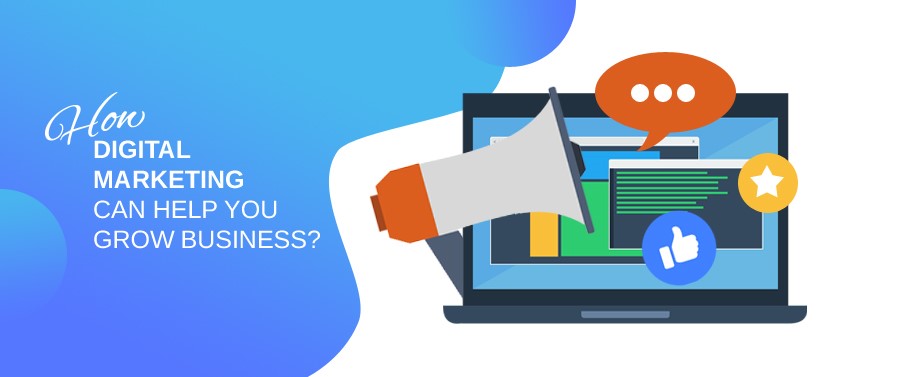 Growth in digitalization has changed the whole face of business marketing. Industries have started utilizing digital ways for expanding the reach and scope of their businesses. IT based business models have created completely new base for entrepreneurs to market their brand, target more traffic and increase sales. However, do you know how does digital marketing works towards improving businesses?
Well, let us discuss on how the concept helps escalating business growth!
What is Digital Marketing?
In simple understanding, digital marketing is the process of promoting a brand through electronic media that involves variety of mediums available on internet. It is more dynamic, extensive and effective than the traditional ways of marketing a business. Digital marketing tools are more flexible to operate and renders effective results. The best part about digital marketing is that it offers multiple tools to measure results instantly. Like for example, if you are using email marketing technique to promote your business then there are tools that can help you find out how many of your customers have opened your emails that enables you to calculate the whole statistics of its effect. Thus, digital marketing campaigns can be more successful and targeted.
How does Digital Marketing help Businesses to Grow?
Shifting the base from traditional marketing to digital ways is quite a task but it's definitely be worth when you know that the entire world is using mobile for almost 4-5 hours a day and therefore, it makes it a major source to promote your business. Apart from its vast reach and scope, digital marketing helps you grow your business in a lot of different ways.
It Enables You to Reach Wider Audience
Digital marketing is flexible with the reach and type of audience it caters to. It helps you to expand your reach without any geographical hurdles. Also, the digital marketing techniques does not restrict you with time and place, something which is missing with traditional marketing ways. Thus, you can connect and communicate with the audience all around the world in one go.
It Helps in Saving You on Marketing Budget
Besides a few high-end corporate firms, it is hard to invest a huge amount of sum for the promotion of a brand. Especially for small and medium business who aims at expanding the scope and reach of their business via their marketing efforts with limited marketing budget. This is where digital marketing serves the purpose. The medium with its vast reach and capabilities helps you save your marketing budget along with providing effective results.
It Allows You to Measure and Analyze Results
One of the best advantages of digital advertising is the fact that you can measure which channel is getting you more benefit in terms of more traffic, leads and conversions. With digital marketing you can measure every click and understand users' behavior and their buying patterns, that will later help you in planning your marketing strategies, so you can get more benefit out of it.
It Helps in Generating Higher Revenues
Businesses using digital marketing strategies tends to generate more revenue as compared to the ones using traditional marketing channels. It is because advertising via digital marketing channels enables you to reach wider audience that increases the chances of engaging large number of people towards your products and services, which ultimately increases the number of leads and sales in business. Also, digital marketing is cost effective which ultimately results in improving ROI in business.
It Helps You Target Right Audience
Digital marketing help brands target their audience based on their behavior, age, location, geographical barriers, groups, interests and in various other ways. This enables them to reach the audience that are actually relevant to business. The real advantage of seeking digital technique as your advertising medium over traditional marketing is that it helps you to reach out to the right kind of audience depending upon the type of business you are into.
The Bottom Line
Digital marketing techniques, specially SEO or social media marketing rely on specialized algorithms and relevant information that can help you to measure, analyze and plan the next step with your online digital marketing. The above mentioned are just few points indicating how digital marketing strategies can help your business to grow. Thus, if you are willing to experience similar benefits in your business then start planning your digital marketing strategy now!