How is Social Media Benefiting Online Businesses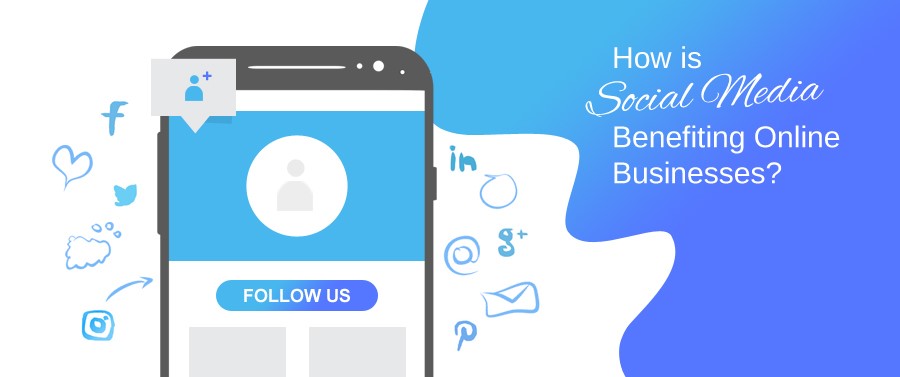 How is Social Media Benefiting Online Businesses?
Social media platforms are gaining popularity at warp speed with the increasing competition in the market. It has created a flourishing way to extent brand's message to the right people at the right time with the desire to stick to the ones who gets interested and remain loyal throughout the brand's journey.
Businesses are leveraging social media for its vast user base with the view to make entire marketing program more fast, effective and inexpensive. The platform connects you with the audience all around the world and enables you to serve them on higher level. With its grand base and stronger impact, social media has certainly proven its worth in last two decades.
There are a lot of benefits businesses are drawing over social media. Here are some ways it is benefiting businesses in their growth.
Global Reach
Social media for its incredible reach and strength holds a great potential to offer any business a wider market to reach out to its consumers. It helps in establishing identity to the brand and offer to serve to the wider crowd. Also, the more the crowd you have to offer, the more are the chances of grabbing customer for your brand and its products. Thus, social benefits through making communication faster and easier in a lot of ways through its global reach.
Improves Networking Potential
In addition to the simplified communication facility, social media serves as the valuable source of networking, to be able to reach out to the like minded people for exchanging ideas and improving the way you are doing business.
Social media networking makes it easier to build relationships and earn the required value for your brand. The same will helps you in creating potential business opportunities, increase brand awareness and increase traffic on your website.
Establishing Brand
Social media can help you present your brand's personality and want it stands for to the wider audience. It helps you represent your brand's ideologies and traits that makes it different from other to be able to attract your consumers and further improve your business. Social media helps you develop your brand and give your business a life to suffice.
Increases Traffic
Social media channels work as substitute for a business websites is a great way to market your brand and reach out to multiple audience in the most personalized and captivating manner. This will provide you the chance to reach out to those potential consumers who you would not be able to engage if social media would not have been there. Thus, social media helps you increase more traffic towards your business website in the most engaging and inexpensive manner.
Gather Feedback
Providing valuable cust
omer services is very important in the world of business regardless of what is your industry. Success is achieved only after understanding and satisfying your custo
mer with the best possible service with your company. Social media helps you understand your consumer better through directly getting their feedback over the platform. It means you will get the customers feedback directly over some social media platform that can help you building your customer base in future.
Conclusion
Every business has its goals and targets to achieve to be able draw success with it. Social media can help you reach those goals or attain success in your business through marketing your brand and its related products and services among its wider platforms. All you nee to do is approach the medium in more strategic and focused way, give it some time to work in itself and the rewards will be amazing.