Mastering The Art of Web Development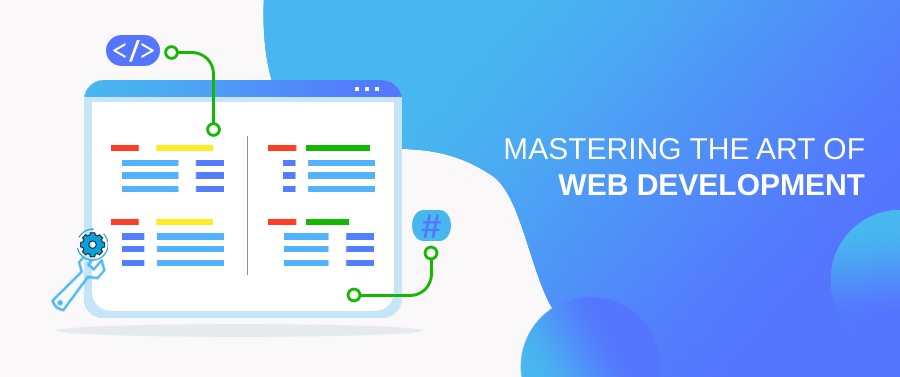 Mastering The Art of Web Development
In the age of world wide web, web development is one of the major professions to profess. Web developers are responsible for building, designing and implementing internet websites. From aesthetic properties to technical considerations everything related to the website is looked after by a web developer. One of the most challenging part of the job is to stay updated with the constantly emerging technology and the functional aspects of a website. Web developers are required to be equipped with the variety of programming languages and web technologies in order to provide best of their efforts. However, the urge to stay updated with the constantly evolving aspects of web development is what this blog is all about. Given below are some of the ways of how one can master the art of web development. The step would also help an amateur who wants to learns on how to inhibit the web development art as a newbie.
Developing a Specialization – Developing a website is complex job, While it certainly requires you to learn coding languages independently, web development is more than usual set of codes. One needs to be proficient with software programs which includes java script frameworks, version control CSS. Before starting with the web development process it is wise to get an understanding of web development process on the whole and the type that will work for you for better understanding. These include interface design, mobile application development or front-end development etc.
Learning and Training – While there is no specific career path or degree required to become a web developer, it certainly requires you to get formal education that can get you the perspective on which a web developer work. Web development is definitely more than just coding. It is important to get exposed to the situations in a project that encourages critical thinking and require problem solving. There are various short-term, intensive training options available for students to gain professional coding skills improving the chances of having successful career.
Time to Acquire Technical Skills – Although having an organized eduction skills can get you some of the great job opportunities, it is important to have concrete skills for a successful web developer. Companies want professional web development agency who can build websites with their creative and intuitive skills and not someone who just learned it theoretically. They want to work with someone who can do the job practically, how and where are secondary if you are capable of doing it effectively. There are three core components in programming -HTML, CSS and JavaScript. CSS and CSS frameworks such as Backbone, Bootstrap and Foundation are the pother major requirements for an efficient web developer. Lastly, there are back end languages such as Ruby, Java, PHP and tools including Oracle and SQL Server that a must know to be a proficient developer.
Practice Coding – Web devel
opment is not just a profession it is a skill that gets better through practicing. Practice coding and demonstrate your body of work through GitHub account. Git help prepare developers for managing complicated site and applications. Not just that, it can also help you to get the attention of employers who can work for their esteemed projects.
Time to Set Your Online Project – Employers are not just looking for professionals, they are looking for professionals who can get them results! Learning and training in any professional field is crucial and so is launching your own project. After all, that is what going to help you build your resume and being liked by the employers.