Mobile App Development Trends to Aboard in 2020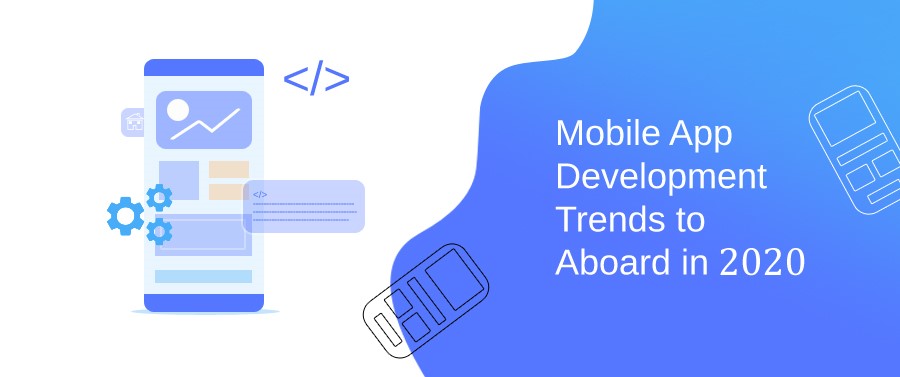 Mobile App Development Trends to Aboard in 2020
A few years back, in 2012 mobile app development was completely a new trend. It started gaining popularity with 57.33 billion downloads. Slowly, entrepreneurs started recognizing mobile apps as a source to provide an omnichannel experience to the customers. For them it was important to retain customer for a longer time period and merely a web presence was not enough to attract the prospective customers.
However, In the recent several years the concept of mobile app development has got intensive. More and more clients today want cross-platform mobile app development services dedicated to their business. They even dream of gaining more profits through utilizing the benefits of technological developments with mobile app trends.
Here is the list of top technological trends to watch out in the year 2020.
Blockchain
In recent years, we have witnessed the paradigm shift in the payment method from traditional to online through mobile apps. Although online payments were made earlier but were not completely safe. There was risk involved for fraud or hacking. However, the blockchain technology has introduced security over online payment gateways through mobile apps. The formulation has made more and more people to utilize the online payments platforms without any hesitation or fear of fraud.
Earlier this year, the Deloitte's Global Blockchain Survey has revealed that 39% of global corporate were ready to invest over $5 million. Therefore in 2020, we can expect that apart from financial aspects, blockchain technology will be applied for various B2B and B2C businesses in order to draw more consumers towards mobile apps.
Artificial Intelligence
Entrepreneurs have started using artificial intelligence and machine learning features for their mobile apps with the view to add more convenience, bring automation and improve customer experience through it. Artificial intelligence help companies analyze data and make more informed decisions for their mobile apps. This also helps them to identify the development processes with AI and to smartly combine them with IoT (Internet Of Things) features and develop better app solutions. With so much happening with artificial Intelligence over mobile apps for 2019, there is no exaggeration in mentioning that AI will definitely lend a hand towards changing the future of mobile apps in upcoming years.
Cloud Integration
Integrating cloud technology enable entrepreneurs to provide users friendly mobile application. As a result, many enterprises have started to use multi-cloud management solutions. Also, the decrease in cloud migration cost and public cloud packages has been observes in recent years which is why more and more companies are seen integrating cloud technology for their mobile apps. As predicted by Garter, around 90% of the IT enterprises tend to adopt hybrid infrastructure management approach by 2020.
IOT
IoT ( Internet Of Things) is one of the major mobile development trends in 2019. Th network when interconnected with smart devices is called internet of things. It provides the convenience of controlling devices even when you are on the move. Identifying the exclusive advantages of IoT in business, every Industry be it healthcare or manufacturing wants to leverage the benefits of IoT approach. According to the recent research report, the worldwide market for Internet of things has been growing at CAGR/28.5 percent since 2019 and is expected to cross $457 billion by 2020. Therefore,it can be expected that more entrepreneurs will focus on building IoT-based mobile apps in upcoming years.
Mobile Wallet
Another major development in terms of mobile app trends has been made with the introduction of mobile wallet. Mobile wallets are quick, safe and convenient for making payments online. The trend is gaining momentum globally and majority people are seen using it for making online transactions. In the year 2020, mobile wallets are expected to achieve more popularity on both iOS And Android app development platforms letting business operators to customize and integrate it in their business apps.
In a Nutshell
Today, entrepreneurs witness a stiff competition in their respective domain. Even when it comes to mobile apps there are number of apps prevailing on app store that force businesses to thrive hard to achieve the lead spot. This is where these technological trends for mobile apps lend businesses along way to go. 2020 will sure witness entrepreneurs coming up with an advanced mobile app development solutions using these top mobile app trends.