Perks of Choosing Social Media Platforms to Market Your Business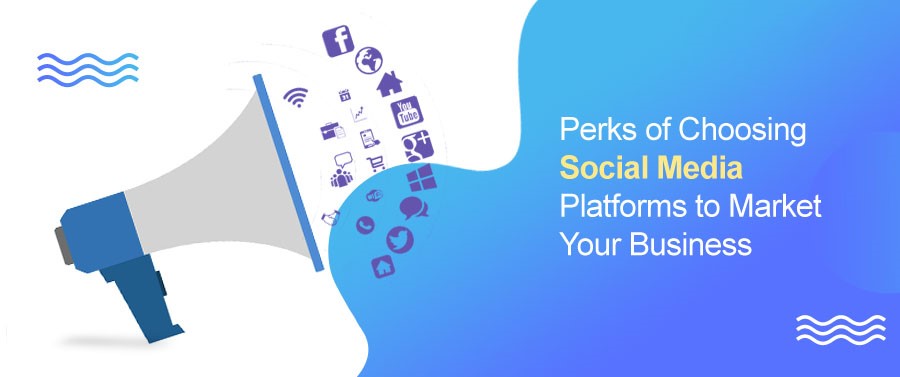 Perks of Choosing Social Media Platforms to Market Your Business
Every business needs to market its services to be able to reach the audience and improve sales. And there is nothing better than social media platforms to help you do so! Social media has become one of the major connecting mediums for people in a very short span of time. Its vast reach and grand outlook has made it a current sailing wave in marketing world. And, no the trend is not ending anytime soon! In fact, the platform is seen making innovations when it comes to facilitating businesses the medium to promote their brand. You can connect and engage with your audience on different levels using social media platforms like Instagram, Facebook, Twitter and others. Also, there are various other benefits.
The following are the great perks of choosing social media platforms as marketing medium in your business.
Improves Brand Awareness
Social media serves as an effective medium to create awareness about your brand. There are millions of people using social medium platforms every day. Advertising your brand over the medium would definitely increase your chance to create desired awareness for your brand.
Facilitates Direct Access to Customers
Social media platforms including Instagram and Facebook are self-accessing platforms, facilitates businesses to maintain a direct connection with the audience. You can convey your brand message, introduce products and even get product related feedbacks directly from the audience.
Unbiased Feedback on Brand, Product or Services
People today are more inclined towards social media, they even provide brand with their reviews on their products and services, which serves as the honest feedback for businesses to know about users' liking towards their products. Using social media, businesses can easily analyze consumer love or hate towards their products, which will help them make required changes in their product to boost their sales.
Lowers Advertising Cost
Let's be honest, cost of printing flyers is more than making a Facebook page for your brand. Plus, the content shared via social media reaches to far more people than a flyer can, thus saving overall advertising cost in your business.
Improves Search Engine Ranking
Social media plays a vital role in improving search engine rankings for a brand. To secure a top ranking for your website on search engines, one needs to share content on social media regarding their brand expressing its validity, consistency and integrity.
Creates Word of Mouth
Social media is vast platform, connecting millions of people around the world and so is capable of creating word of mouth for your brand. However, always remember, the results with social media can be fast and tremendous, make sure the content that you share is the positive one and is taken in its right spirit for if it is otherwise it can hamper your brand image.
Improves Leads and Sales
Increase in visibility for your brand, will help you improve your leads and sales. Yes, you read it right, social media marketing can help you increase your sales. Brands who maintains the regular touch with their audience are capable of gaining their loyalty and so are their chances to increase their sales and profits.
Improves Brand Loyalty
One of the major reasons for a business to market its brand is to build a loyal customer base. However, to reach the space one needs to start connecting with the audience and build relationships. Social media is not limited to brand promotion or introducing latest products. Customer see it as a platform to communicate directly with the brands and seek answers to their questions or queries related to their products. Business too can take it as an opportunity to connect with them and thus gain their loyalty towards their brand.
Better Customer Satisfaction
Users appreciate the fact that they receive direct reply from the brand regarding their enquiry on the brand's website and not the usual automated response from the machine. Social media improves the communication between brand and users through providing a platform where one can act as a voice for a brand and thus improves its image.
Cost Effective
When it comes to marketing your brand, social media serves as the most cost effective means of establishing connect with the audience. Subscribing to most of these platforms is free of charge, which is specifically beneficial for small business with lower budgets. Even if you choose to use paid advertising services over social media platforms, the high rate of return is what you are likely to get on your investment.
Final Thoughts
Knowing the benefits of social media, there is no deny that the platform serves huge marketing benefits to startups and even established brands. However, make sure you seek the right strategy, only then it will help you in gaining more traffic, improved SEO, brand loyalty, customer satisfaction and much more. Also, make sure you don't rush with it all at once, take a step first and let the rest flow naturally!