Planning to Redesign Your Website for 2019 Tips and Tricks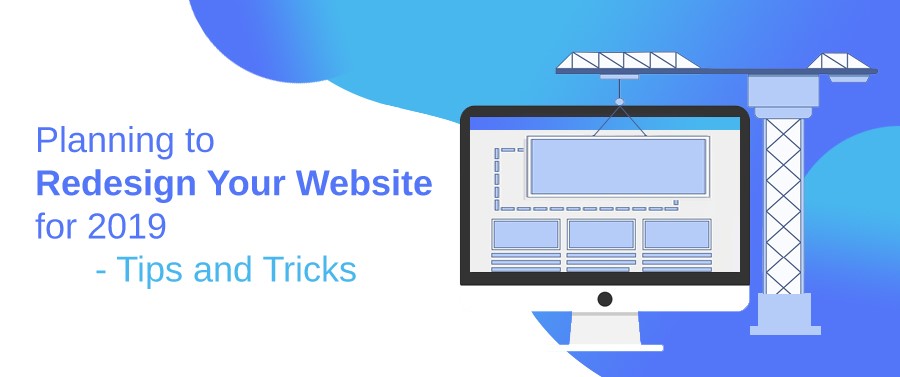 Planning to Redesign Your Website for 2019 – Tips and Tricks
The success of any online business is directly related to the design of its website. This is probably the biggest reason why every year designers have to put in extra efforts to redesign a website in order to keep users interested in it. With the progressing advancements in the field of technology, there are new styles that are pushing the boundaries when you opt for website designing. These improvements are fundamental to have stronger focus on documentation, making the platform more consistent and accessible for the users.
This year too there are lot of developments that one can consider if planning on redesigning a website. Lets explore the new developments in website designing for the year 2019.
Mobile Responsive Design
"If your plans don't include mobile, your plans are not finished" – Wendy Clark, coca cola. Today, mobile phones are used for almost everything. Users find it easier and faster to access web facilities over their mobile phone. Therefore, if your website is not designed for mobile browsing then you might lose half of your visitors. And that will ultimately affect your profits in business. Thus, when you redesign your website make sure that the design can also be accessed on mobile device.
Improve Communication Through Website
Earlier, there were not many options for users to contact the owner through business websites. For a lot of users that created a barrier and even affected the overall sales of the brand. therefore, if you are planning to redesign your website makes sure that the new design provides the facility to converse with the owner through live chat boxes or add a chat bot to your website.
Think About An Effective SEO Plan
Search engine optimization is a major marketing consideration for any website. keep your website engaging enough to make more users visit it. The more the users will visit your website the better will be your ranking. Therefore, while redesigning your website in 2019 try and add features that will improve users experience on your website and that they will be able to find what they are looking for.
Page Load speed
One of the major reasons why people like to use their mobile phone for getting online is for the faster upload. Therefore ensure that your website loads faster while redesigning it, for the same affect in users engagement for your website. Some of the common ways to make your website work faster is through thinning the website file, optimizing images, reducing java scripts etc.
Implement SSL
Going by recent upgrades, google has decided that non SSL websites are not secure and so they will not be ranked. Therefore, in order to get your website in top ranks on google, ask your designer
to implement SSL on your website. You can also use free SSL provider using the encryptions that will turn your website to an "https" instead of "http" in front of your URL.
Abide by GDPR
According to general data protection regulation (GDPR) the personal data and privacy of individual users are meant to be protect the owner of the website. Therefore, make sure that your website design comply with GDPR if you are willing to receive more traffic or business in European union.
A good website design can get you business even while you seep. It can help you generate lead, establish your brand and even make huge profits. Therefore, this time approach an experienced web design professional to help you design your website and make a successful one.