SEO VS PPC How to Choose One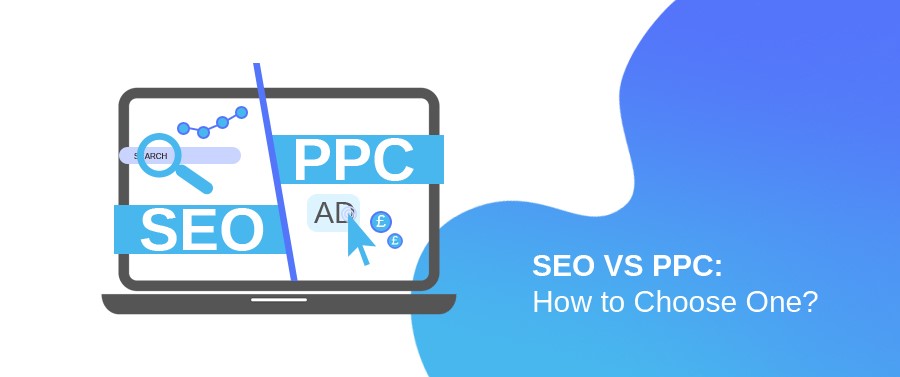 When it comes to marketing your business through search engines, there are two major ways to do that, one is through Search Engine Optimization (SEO) and another is Pay-Per-Click (PPC). Both of them are basically employed with the view to boost traffic for business website and to improve sales. However, the question is how to decide on which one is better for your business?
Let's understand the basics for both the concepts first.
SEO: Search engine optimization is an organic way to rank your website in search engines including google, yahoo and Bing. The point to focus here is that you cannot pay to improve your rankings with SEO. Search engines allot rankings depending upon the calculations drawn from the quality and relevance of the webpage. Therefore, it is important to optimize your website according to algorithms drawn by these search engines to gain top ranks using SEO.
PPC: Pay Per Click is an advertising model where you need to pay for the number of clicks your ad receives. The concept is basically associated with advertising on search engines such as Google ads. Businesses tell Google they want to place their ads just below the organic search results and pay only when people click on them.
Search Engine Optimization VS Pay-Per-Click
Given below are the points of difference between two leading digital marketing techniques for you to take right decision regarding how to market your business.
Effect: Search engine optimization although takes some time and patience provides organic only traffic for your website that sticks around. However, Pay-Per-Click drives paid only traffic that too will stop visiting your webpage once you run down on your budget. Thus, if you are a startup and are willing to grab stable traffic with a limited budget then PPC is just not for you!
Time: Pay-Per-Click works faster and tends to provide quicker results; however, it can also be for a limited time. It means google will stop showing your ad once your marketing budget will run down. With PPC everything depends on your budget, they will simply not show your ad to everyone. PPC can make your ads to appear immediately, but it does not mean that it will get you faster clicks and conversions as well. Even though PPC works faster than SEO, it still requires some patience till the time google tries to evaluate your ad. SEO on the other hand takes its own time. The process involves steps like keyword research, on page optimization, implementation of SEO strategies including writing blogs and acquiring backlinks etc. All in all, it can take few to several months for your website to reach in the top ranks on the major search engines, however soon the google will recognize your efforts and it will then start getting you a reliable amount of traffic. Thus, if you are choosing SEO as your marketing technique make sure you have some time in hand.
Requires: SEO requires unique and authoritative content to let you reach in top ranks on google and other search engines. This is because people while making google search would like to look into the sites that not just serves the best but is also different that the usual. Whereas, PPC allows you to target your ad based on subjects like demography and geographical aspects. This way you can control and pay for the selected number for people you think will click your ad.
Cost: SEO is comparatively cheaper than PPC. With PPC, the cost is determined based on the number of clicks your ad receives. Although PPC generates quick results, to maintain it you need to run PPC campaign for quite some time and that will make it more expensive, especially if you are a small business or a startup. On the other hand, SEO though takes some time to reach the top spot on search engines, is cost effective in long run.
Final Thoughts
Choosing a digital marketing technique between SEO and PPC majorly depends upon your needs and budget in business. If you want to increase traffic faster and also have budget to pay for it then PPC can be the one for you. However, if you are on tight marketing budget then you should probably invest more time in gaining high search ranking using SEO.