Significance of UX Design for a Website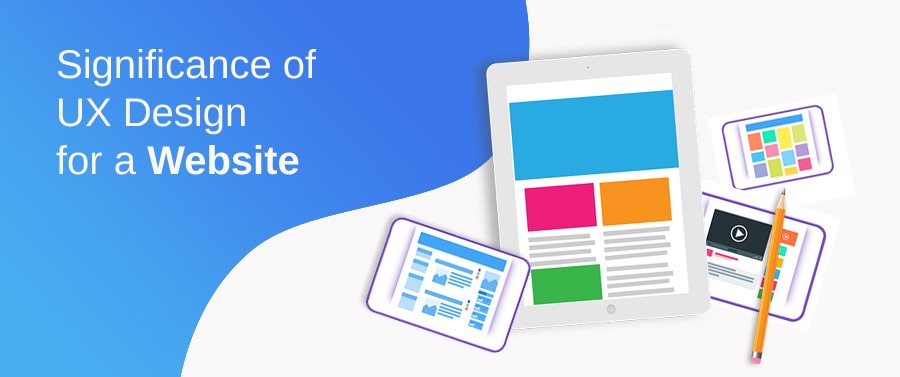 Significance of UX Design for a Website
Earlier, designing the website was all about getting an appealing design, smooth accessibility and an easy to use format. However, today designers focus on providing memorable user experience through the websites involving UX designs, in other words User Experience Designs. UX design is crucial for a great user experience involving access to latest technology features and the design that invites user over and over again.
Frank Chimero explained it right through a quote that says – "People ignore designs that ignore people"! Therefore, it is important to consider users' need in order to achieve success for your website.
UX Design – The Definition
UX is basically how a person feels when interfacing the website or any other web application, software etc. The interaction that human does
with a system is what we call a user experience(UX). A good UX design is about making technology more user friendly and accessible to enhance users' experience with the design. UX is crucial to a website as it helps in engaging consumers towards the platform. Keeping the data memorable would help you grab loyal customers for your brand and products.
The major reason to include UX features to an online application is to simplify user journey getting rid of all the necessary elements.
UX Design – The Significance
Modern technological scenario have become so competitive and elusive that even the most creative and intuitive designs don't make an impact. UX design plays rather major role in success of a web application as it helps in making the first positive impression on the online users. In other words 'The better the interaction of a website with the user, the more trust user will have on the brand'.
UX design is not just about aesthetics, its about usability. Its about lasting human interaction, and if a website is not fulfilling the purpose, then it still needs work.
What Makes a great UX Design : The Components
Getting the perfect UX oriented design for a website is a task in itself. It requires better understanding of the users on web, technological aspects and the designing patterns that are followed on web. Sometimes, designers find it hard to translate into user centric design even after being aware of all the UX elements. Thus, to put it simple, here are the things you should do to achieve a successful UX design –
Design keeping in mind users' feedback and specification collected over web.
Avoid cognitive load, add more personal touch for the design
Make sure that the design is easy to access for the users
The design should have scope for users
Summing Up
UX design plays an important role in success of any business online. However, its the user's reaction and satisfaction that make UX design a winner. It is important that a website is easy to navigate and is accessible in anyway to be able to grab user attention for a business. If a user goes through your website and find a number of hitches or witness any usability issues with the design then the chances are that you will lose a probable consumer for your brand. Hence, UX design is an essential element for the development of any website.