Top 5 Web Design Digital Marketing Secrets You Never Knew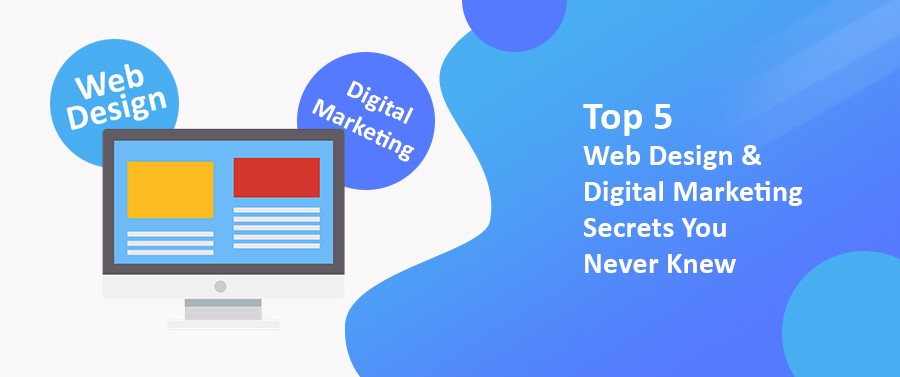 Making web sites that engage and help you convert and digital marketing that leads to more business and wider customer base are on the wish list of most Web Design & Digital Marketing professionals. This could be an altogether different issue that it's not easy to create such sites and do such result-oriented digital marketing.
Why most fail? What's the secret behind effective and engaging web design and digital marketing?
Well, here are the 5 most important secrets you never knew. Use these to make more money and establish your business in the market.
5 Most Important Web Design & Digital Marketing Secrets You Never Knew
No Need of a Flashy New Website
The most decisive feature of any website is result. In case you are getting great results from your present website; it's easy to navigate, successfully conveys your core business messages, clearly tells customers why they should choose you and drives conversions, don't allow a web agency to persuade you to go for an overhaul and spend your hard-earned money on a major website redesign.
More May Not be Better, At All Times
Some marketing agencies could try to tell you that their efforts have led to the desired results because you're getting more traffic to your site, or your ads are receiving more impressions. Your target is not to get more people to your website; it's to attract more customers, right?
Engage Employing the 80/20 Law
Your marketing team posts every day on Facebook, but how often do they interact with your clients or other brands?
Follow the 80/20 rule. Promote your business and your own content not more than 20% of the time. The remaining 80% must be for interacting with other brands, customers, and content.
It's the new content marketing. Content–in the form of text and pictures, is still the King–but moving pictures or video is fast catching up. Nowadays, you'll see videos going viral and grabbing more eyeballs.
How videos tick all the right boxes?
To begin with, they're easy to watch on the go and allow your prospects and clients to interact with your company directly.
If you show your best stories, products, and services in an interesting way, rest assured you will attract all the right attention!
Instagram & Its Stories Section
As per many experts, Instagram is the more sophisticated place, vis-à-vis other apps. While earlier the social media platform didn't have a huge base, today, thanks to its exclusivity and special niche in the social media space, it has a huge base even as the number of active subscribers is increasing day-by-day.
There were around 24.46 million Instagram users in the UK as of March 2020, with 31.9% of those users being between 25 and 34 years old. The app's stories section is a big hit. In case you are a digital marketer or a business organization, share your stories on Instagram, get 1000s of likes and draw millions of people while you establish your brand and make more money.
Now since you know about the 5 most important Web Design & Digital Marketing Secrets, what are you waiting for? Start attracting more clients and making more money!