Website Maintenance How to do it the Right Way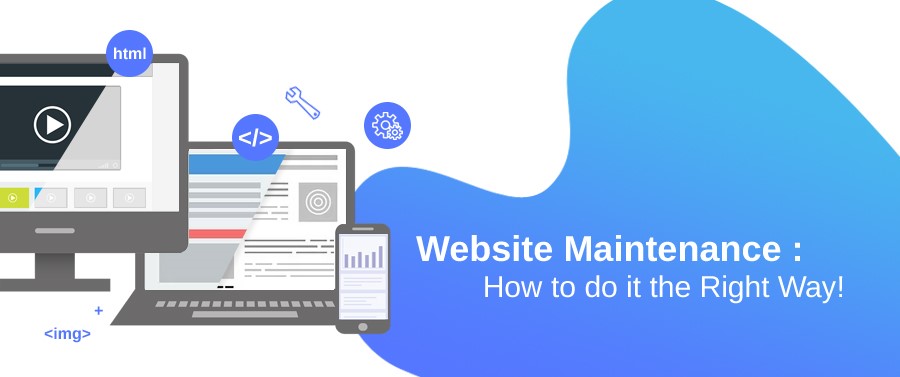 Website Maintenance : How to do it the Right Way!
Most of the entrepreneurs think building a website is a one time task. However, the truth owing website is not a one time deal, in-fact its an ongoing process that need continues maintenance and updations in order to get the desired results. On the other hand, if you do not update or maintain your website, the same can ruin your brand's hard earned reputation and can affect your business as well. This is why it is very important to keep on updating your website and not neglect its maintenance.
With the increasing competition in the market, making a first good impression is must to achieve success in your business. Maintaining a website in today's constantly evolving encompasses a lot more than just fixing the bugs. From upgrading website's visual branding and content to integrating new systems, it is all an equal part of website maintenance. Apart from that, given below is the list of website maintenance essentials that one must keep up with.
Scanning for Online Perils
One of the major reasons why it is advised to maintain a website is to ensure its safety. Scanning website from time to time would assure that it is free from any vulnerabilities and is not taken over.
Repair Errors and Bug Fixing
Nobody would really want to visit a website which is been affected by bugs or has errors/affected by broken lines. A website should be checked for its both internal and external links for any broken lines that can baffle customers and affect search engine rankings.
Browser Functionality Check
Another major aspect to consider under website maintenance is its functioning ability in all different browsers. Ensure that the website is running properly on all the browsers especially the ones that are largely equipped by the users.
Software Updates
With upgrading technology, it is advised to update your website's software to make it work properly. In fact, not just that it is good to update WordPress core, plugins, and themes as well so everything works in co-ordination and users can explore it with utmost ease.
Backups
It is important to perform automatic and manual backup on regular basis as it can help you restore website whenever needed.
Website Speed
One of the major things to consider while maintaining a website is to check your website its speed. Users often leave the space if it is slow or difficult to scroll through. If you are willing to check for your website's slow speed then you can check it with Yahoo's Yslow or Google Pagespeed.
Search Engine Optimization
SEO ( search engine optimization) is an effective way to make it to top spot on Google and other search engines. The process will help you find out problems that are affecting your site's ranking.
Analytics
Analyze important metrics of your website and the leading trends in those metrics using high quality tools like Google Analytics dashboard or Google Analytics for WordPress. The same will help you analyze your website traffic and will provide you suggestion regarding its content and design.
Web Content
Maintaining website also include updating its content making it look more updated and fresh which is noticed by both users as well as search engines. It helps you review your content, correct mistakes, update information and target consumers in a better way.
Conclusion
All in all website maintenance is crucial for websites especially the ones dedicated to businesses for they need to stay ahead in competition in order to gain success. Maintenance ensure the website will keep on performing at its best removing all type of errors, security problems and delivering the best user experience.