Why Should Startups Invest in Website Designing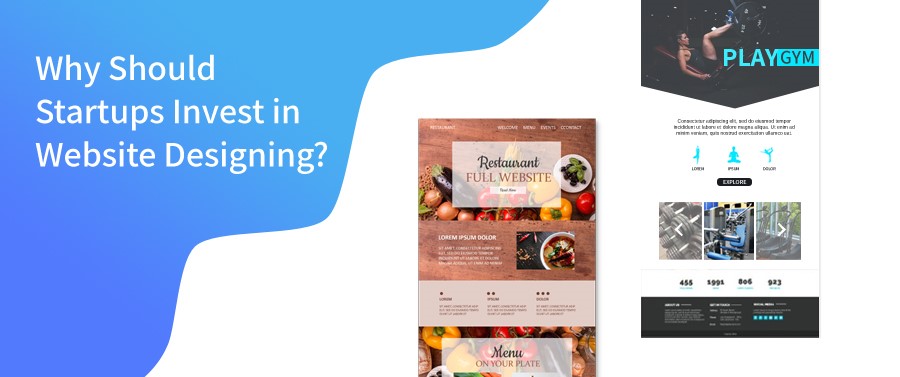 Why Should Startups Invest in Website Designing?
One might have a lot of concerns while getting stated with the online business like acquiring website, grabbing clients, gaining profits, managing staff and resources etc. While having so much on the plate, one tends to miss out on realizing the importance of designing their business website. Yes, you are right, having a website is important to business but its the design that can help grab major benefits.
With so many websites getting launched everyday, it is its design that provides it an exclusive identity. Your website design conveys a lot about your brand, therefore it is important that you get it designed from a professional designer. It adds the aesthetic value to your website and can help you stand out in the competition. A beautiful and functional website design can benefit you with an effective and wider recognition for your brand, especially when you are a startup!
Given below are the reasons why startups should acquire professional web designing services –
Brand Consistency – Every business has a motive to succeed behind creating a website. Therefore, it is advised to seek professional web design services. It will help you add more uniformity across your website in the form of font style, size and color schemes. The type of consistency in a website helps creating an impact and identity for a business on web. It will also help you grab more user attention and thus lends the opportunity to gain more profits.
Flawless Navigation – Another major advantage of getting your website designed from a skilled designer is to enjoy better navigation for it. Navigation basically means smooth transition between different pages on the menu bar of your website. Getting proper navigation will help visitors on your website to better understand your business and its services.
Mobile Compatibility – With the increasing digitalization, the importance of getting yourself available on mobile platform has all more increased. It can help you fetch more customer and profits for your brand. However, for a website to be mobile friendly requires a designs that dynamically adjust images and other content according to different screen sizes. Only a professional web designer can help you develop a responsive website that exhibits navigation credibility.
Attention Grabbing – A website is said to be successful if it is capable of grabbing maximum users attention. Therefore, it is important for a website to be aesthetically pleasing. It should be provided with an exceptional layout and is capable of engaging users on web. The need for having an appealing outlook for a website is probably the most indispensable factor for hiring services from a professional web designer.
Brand Recognition – Designing you
r website helps in vitalizing your brand. It helps you mark an identity for your business and ensures proficiency for your brand. Like for example, your website bears the logo of your brand, then it needs to be unique and eye catching for it exhibits your identity. A well qualified web designer can help you get a logo that reflect your brand's efficiency that directly or indirectly will help you generate revenue.
Summing Up
With more and more businesses starting to develop their online identity, the importance for having an effective website design has all more increased. It will make your customers believe on your business leading them to engage more in your services. The same will increase your conversion rate and improve overall ROI. Hence, getting your website designed is not an expense but rather a lucrative investment!!