Why You Need Digital Marketing and Designing Services 8 Important Reasons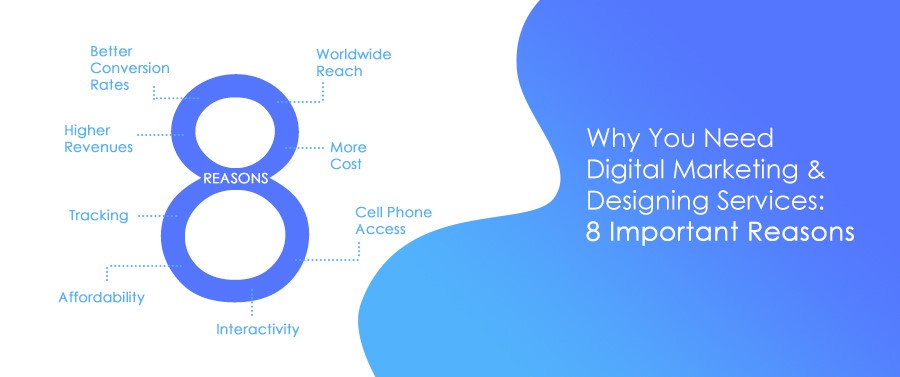 You need Digital Marketing and Designing services from the right professionals, for several compelling reasons.
Without these powerful and result-oriented services, you can't hope to survive today.
Gone are the days, when to reach your prospects and expand your business footprints, you had to rely on the conventional publicity and marketing methods, such as billboards and hoardings, etc.
This is not to suggest that these don't help anymore because they still do.
But to penetrate a bigger market–within a budget–you just can't ignore the digital marketing and designing services of today.
These have become nearly indispensable now, especially in the backdrop of Covid-19 Pandemic which has restricted people's movements even as 'social distancing' has become an unavoidable norm.
No wonder, these services have become a lot crucial nowadays, particularly for those who are running any kind of business. And, also for those who wish to connect with their prospects and clients, and expand their market base while they convey their key messages to them.
What Tools to Use for Digital Marketing and Designing?
You can gain from different kinds of effective and result-oriented tools, to stay relevant, and in the business.
Right from organic methods, including Search Engine Optimization (SEO), article submissions, link buildings, guest posts, social media, e-mails, infographics, and video; to inorganic methods, including Pay Per Click (PPC), and Affiliate Marketing, you may use all known tools, to locate new customers, and retain the existing ones.
If we talk about the designing part of the services, it's also incredibly important.
With dynamic websites that offer clutter-free, hassle-free navigation options to the users, you can attract visitors and inspire them to convert.
Digital Marketing and Designing: 8 Important Reasons That Make These Services Indispensable for You
Coming back to the reasons under discussion, you require such services for a plethora of important reasons. Better conversion rates, worldwide reach, higher income, lower cost, vis-à-vis customary marketing…these are just a few such reasons.
Let's check them one by one!
Better Conversion Rates: Such services help you with a higher conversion rate. Your conversion rate is basically the percentage of the guests to your website that complete a preferred target (a conversion), out of the actual figure of the guests. A high conversion rate means successful marketing & web design.

Worldwide Reach: Such services also help you with a well built and relevant website with the most recent information that helps you to successfully locate new markets and trade internationally, without investing much.

Cell Phone Access: Close to 77% of the adults in the US have smart phones. These people use it or a new mobile gadget for news, social networking, and countless other activities. The situation isn't much different elsewhere, including in the UK. With Digital Marketing, you can reach such a vast pool of market in your region and even beyond.

Higher Revenues: With traditional marketing of the yore you had a smaller range and market and–more importantly–returns. With digital marketing, the possibilities though are never-ending. You can expand like anything and boost your revenues like never before because the entire world will be your market, and you can milk it the way you want.

More Cost-effective: With an appropriately planned and well targeted digital marketing drive, you can reach the right clients and prospects, at a decisively lower price, in respect of the customary marketing methods.

Affordability: Digital marketing is noticeably less costly, in relation to other marketing techniques. Though particular prices differ–on the basis of what you could be actually busy with–ad spend is likely to be significantly lower, vis-à-vis other types of marketing.

Interactivity: You can also learn about your target groups and allow them to be acquainted with you, on a personal level. This will result in brand loyalty. With Digital Marketing, you can also engage those who find your content, particularly via messages, reviews, and social media posts, etc. It will make them feel valued and an important part of your society. It will also help you to collect useful data on your customers' and prospects' reactions and choices.

Tracking: You may also track reactions to your marketing efforts, right away. In addition to speaking with your clients and prospects, you can also track their actions. You may examine which ads and kinds of content have influenced them the most to buy something. You will also learn which specific marketing ways have been the most helpful.
Summing-up, you need digital marketing and designing services for Better Conversion Rates, Higher Revenues, and Worldwide Reach. You need such services for the tracking purposes also. Check with experienced and trusted professionals offering these services! A better and more successful future awaits your business.